Model C: 15' *28' (4m x 8m)
Material: 3 mm Solid Polycarbonate Sheet,Aluminum Profile
Outer size: 16.54′ * 28.60 ' * 4.80'
Inner size: 15.01′ * 28.38′ * 4.1′
Wooden box size: 3260*1300*750mm
Weight: 553 KG
Price: $ 5,500
1.Design
2.Material: Panel material : 3mm thick Polycarbonate solid sheets
Light transmittance:  the light transmittance rates up to 85%-91%, and its transparency can be comparable with glass.
High impact resistance: 
 The impact strength of polycarbonate board is 250-300 times as common glass, is 2 times as toughened glass. You can image, falling the hammer with 3kg from two meters above the polycarbonate, there is no crack. The polycarbonate enjoy the reputation of "safety glass" and "ring steel". So, it greatly reduce the maintenance cost and liability risk comparing with other glazing materials.
Anti- UV protection: We add anti-UV coatings on the surface of sheets, and it can protect your skin from skin cancer. It is also anti-aging.
Frame material:  34mm*50mm 6063 T5 Aluminium alloy
Extruded 6063 aluminium is high wind pressure,corrosion resistance and is widely used as the frame of architectural ( windows and doors),  curtain walls.
The aluminium was anodized, has an oxidation on the surface.  The coating as a shield, it prevent corrosive media (such as salt water,salt mist, corrosive glass, etc) from the metal. So the aluminium is high corrosion resistance in seawater, the corrosion rate less than 0.018mm/Y in sea water.
3.Sizes : Model C is total 4 sections, as above picture showed.
Inner size 4576*8650*1250mm (15.01'*28.38'*4.1');
Outer size 5041*8718*1464 mm (16.54'*28.60'*4.80')
4.Tracks
 Tracks will be fixed on flat hard ground. Width of each side track is about (outer width 5041 mm–inner width 4576 mm)/2=232.5mm. You can also extended tracks, extended 2m tracks (extra cost USD80 )
5.Door
Usually our standard pool cover has a front pulling door as the below picture showed, if you want to add a side sliding door, we can also customize one for you.
Front door as below picture showed, ( extra USD 150 side door customized cost)
Usually front door will be located at biggest section, if you also want to add a front door in smallest section, extra USD 350 will be charged. The radian of door panel will changed, and the current door system in biggest section will not work. Our engineer need to re-design, and it will spend extra design cost.
 Side sliding door as below,
Side sliding door can be located at A,B,C or D panel as below,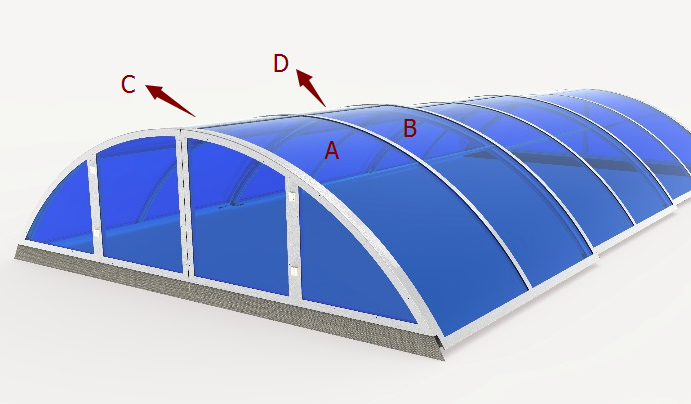 6.Lock systems
On one hand, there is a lock in front door, on the other hand, there are lock system between sections, so when you open the whole unit, it will be fixed well, no worry wind will blow it away.
Front door system
Each section lock system,
8. Installation
There are detailed installation manuals which can instruct and guide you to complete the installation. If it is necessary, our engineer can also give you some video or telephone guidance.If it is still difficult for you, our related workers can also fly to your country to help you, but you may bear the necessary cost.
9.Wind and snow pressure tests
We construct our enclosures from solid polycarbonate sheets and extruded aluminium, these outdoor pool covers can withstand a wind speed 230km/hr and a weight equivalent to 900 kg distributed within a 1.5m radius. You don't have to worry about wind and snow anymore and you will have a safety pool cover all year round.
10.We provide 15–year warranty