Glamping Dome
Excelite glamping dome does not contain metal support, it has an all-in-one 360° transparent view.
It's unbreakable, and UV protected, this dome can meet diversified applications.
Multi Functional
You can use if for Glamping Dome, SPA enclosure, Backyard studio, Yoga studio.
1
Strong and safe
Excelite glamping dome is made of polycarbonate sheet, very high impact resistant, unbreakable, it's safety for Hotel or as a glamping house. Water proof, fire resistant.
2
Transparent
The eco-friendly, transparent visual solution, good connection with nature
3
Installation.
Excelite glamping dome is easy to install. 2 persons 1 hour to assemble a dome.
4
How it looks like for Excelite Glamping Dome
Buy Excelite Glamping Dome from Direct Manufacturer—With The Best price
Excelite specializes in polycarbonate products for more than 20 years in China. Polycarbonate glamping dome is a new product we just developed in 2018. Since we produce polycarbonate sheet, and we have the thermoforming machine by ourselves, so we have the confidence in our price. Distributors are welcome.
Note for European Clients:
Welcome to visit our Glamping Show, Our Booth is OSA 185
The Glamping Show
19th – 21st September 2019
NAEC, Stoneleigh Park – Warwickshire
Don't Take Our Words For It.
Listen to what our clients say about our enclosure
Get a Quick Quote Right Now
Excelite Polycarbonate Glamping Dome
The 2-8M series of transparent Domes houses are the latest product of Excelite.
The product does not contain metal support, has an all-in-one 360° transparent view.
Transparent glamping dome houses are an efficient architectural design, the material is polycarbonate and Aluminium, it's very stronger material and impact resistance is super high, and it's much lighter than other material too, a dome house only weight 200-300 kgs, which has high safety and strong protection, it's unbreakable and UV protected.
It can avoid the invasion of snake, worms and large beasts in the wild and good connection with nature.
Excelite glamping dome house combines the most efficient shaped structure with the most efficient materials to produce housing that is Category 5 hurricane and cyclone capable, earthquake resistant, flood damage proof and more.
It's very easy to assemble, you only need 1-2 hours to build a dome house, it's much quicker than traditional buildings, they enclosed a large amount of space with minimal materials, labor, and energy.
We offer different options of sizes, 2M, 3M, 4M, 5M, 8M, etc., and different sizes can be spliced and connected together, which has high flexibility and can meet diversified applications.
Sizes available:
2m Diameter *2.4m Height, Sqm:3.1, Weight: 100KG
3m Diameter *2.4m Height, Sqm:7.1, Weight:150KG
4m Diameter* 2.8m Height, Sqm:12.5, Weight:200KG
5m Diameter*3.1m Height, Sqm: 19.6, Weight:250KG
8m Diameter*6.0m Height, Sqm: 50.2, Weight:300KG
Colour:
Transparent clear
Customizable colors are also available, please ask and we will be able to provide samples
Material:
100% transparent polycarbonate, UV protected.
Bulletproof material with very high impact resistance
Aluminum door frame
Features:
Universal solution: One product, many functions
An all-in-one 360° transparent visual solution.
Fire resistant
Eco-friendly, good connection with nature
Impact resistant, unbreakable, hailstone resistant
Earthquake resistant, hurricane, and cyclone-resistant
Easy to install
No smell
UV protected
Configuration
Door
Code lock, self-check-in
Window
Mosquito net
Curtain(Automatic curtain on the top and manual curtain on the side)
LED strip
Bathroom, Toilet, and bathtub
Ventilation system
Ventilation System
Door and windows with mosquito net for natural ventilation,
Ventilation System
Air-conditioner
Multifunction
Individual Landowners
Backyard studio
Study/Kids playground/Kid's toy house
Yoga/Retreat/Meditation room
 Office
Extra accommodation
Greenhouse
Pub/bar
SPA enclosure
Holiday Parks and Campsites
Aurora Dome house
 Dome Cabins camp
Kiosk, Pub, bar
Glamping house, Glamping dome, Glamping hub
Igloo houses, Winter village,
Wildlife park accommodation
Hotels and Resorts
Bubble house
Dome house
Pub, bar, kiosk
Gazebo
Wedding event, musician event, etc
Dome house/Bubble house/Glamping dome/ Igloo
You can use our dome house as a garden glamping dome. It offers excellent connection with nature and great visibility, perfect for star gazing and early morning sunrises.
The houses are fully lockable and secure so can be used as a fully functional accommodation, either as a granny house in your garden or for business purposes e.g. Airbnb or campsite development.
The most popular way for Dome house is to use it as a Dome cabins camp or bubble hotel or glamping house.
But it's much stronger than the PVC geodesic dome house, can protect beast invasion or hailstones.
It looks like it's the perfect winter getaway to watch Aurora and count shooting stars from your cozy bed.
Dome house is an innovative eco-friendly place to stay, imagine that you wake up from carbon neutral, sustainable accommodation in the heart of a National park, enjoy the amazing mountain views, stargaze from your cozy bed, go incredible hikes and horseback ride through wide plains. Go rock climbing, fly fishing
Advantages compared to inflatable PVC structures:
PVC material releases unpleasant smell even after prolonged use, especially in the sunshine.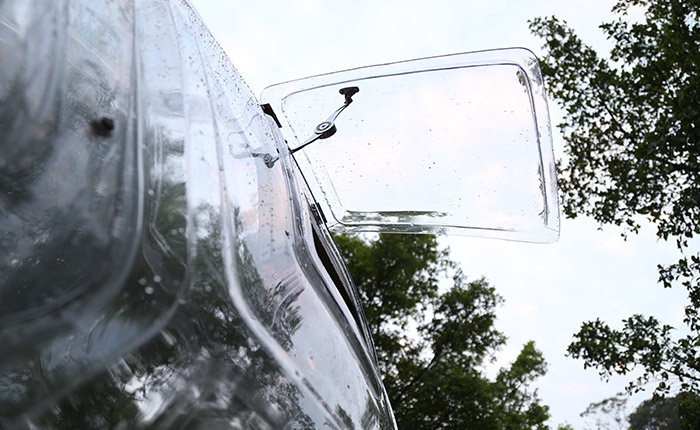 Polycarbonate material has no smell and this problem simply does not exist.
PVC structures need constant air inflation, which results in increased power consumption, also air inflation makes noise. Polycarbonate structures have proper door and windows and offer natural ventilation.
PVC material easily turns yellow and transparency will decrease rapidly. Polycarbonate sheet lasts a minimum of 10 years in most outdoor environments.
PVC structures are normally made of 1mm film, very soft and easy to break, whereas we use solid 4mm polycarbonate sheets. The material offers great resistance to rain, hailstones, and in fact, it is so strong that it is used to make bulletproof panels.